Jon Chu is a 23 year old graduate of USC's film school that is slated to direct Columbia's planned remake of "Bye Bye Birdie" - the studio's first feature musical in nearly 30 years that is slated to be released late in 2004.
"(Jon M. Chu) got this job (directing Columbia's upcoming remake of the musical "Bye Bye Birdie") the old-fashioned way -- pure talent" stated the film's producer - Lucy Fisher of Columbia's Red Wagon Productions. The "Birdie" remake comes as Hollywood is once again revisiting the musical genre, fueled by the successes of recent tuners like Miramax's "Chicago" and Fox's "Moulin Rouge."
"Bye Bye Birdie" is the story of a rock n' roll singer who gets drafted. Before he goes, his agent gets him on to a TV show for a farewell gig, and to kiss his biggest fan goodbye. The original George Sydney-directed film starred Jessie Pearson as Conrad Birdie and Dick Van Dyke as his agent.
Jon Chu's attention-grabbing student musical short (17-minutes) film (w/producers Jeff Jackel and Melissa Hook), "When the Kids are Away; A Musical Celebration of Mothers" ((basically, "Toy Story" for Mothers after kids leave) that was made on a $20,000 budget in 12 days, attracted attention from Doug Wig and Lucy Fisher of Columbia's (a division of Sony Entertainment) Red Wagon Productions.
This production, which was completed in December 2002, (that opens with a Black family of seven children whose mother fees them amide general chaos before sending them to school) is about the secret lives of mothers and what they do when their families go away for a day in the 1960's - which is to sing and dance - everything from salsa to swing to country to break-dancing (in a series of intricately choreographed dance routines) while featuring an orchestra and 40 dancers (salsa, swing & break-dancing) among its 175 participants in its cast crew.
The film revealed the extraordinary lives of seemingly ordinary housewives when their husbands and kids are away for the day, through song and dance."

Jon Chu, the Los Altos Hills native, is the youngest son of five kids from the family of Lawrence and Ruth Chu, the people behind Los Altos' Chef Chu's restaurant. My parents came to the U.S. when they were 19 years old and decided they wanted to immerse their children in American culture.
His love of filmmaking began in the fifth grade, when his mother placed him in charge of the video camera during a family trip to Europe. Instead of the normal vacation pictures, he was making sci-fi movies with his brother. Then his father bought him a mixer, with which he made home videos and experimented with animation. In high school, he opened up a shop making corporate videos.
Chu is comfortable on the other side of the camera too. As a teen, he performed both on stage and on screen. Chu won the Ginny Award for best juvenile actor for his role in the Pacific Overture at the San Jose Civic Light Opera. In high school, he appeared weekly as an on-camera interviewer and reporter for KRON's Saturday teen show First Cut.
His parent instilled an appreciation for musical theater by taking him to musicals and ballets every Sunday of his youth. In addition, he took lessons in piano and, violin while tap-dancing for twelve years. Jon has stated that "Music is just so powerful. Three notes can communicate what three paragraphs of a script can."
In 1998, after graduating from Pinewood School, Chu was accepted into University of Southern California's prestigious film department. By his junior year, the industry was already taking notice.
Chu 's black-and-white digital video, "Silent Beats," which he wrote and directed, took first prize in the best drama/documentary category at the Alice's 3-Minute Film Festival.
Jon Chu won Princess Grace Foundation's 2001 Cary Grant Award, the 2002 Jack Nicholson Directing Award and the Virgin Records Video Contest, directing a music video for the now defunct alternative rock group Geggytah. Outside of the classroom, Chu founded the USC School of Cinema-Television Student Council and strived to build a community among Asian Pacific American student filmmakers to broaden the exposure of APAs in the media.
While the original (that starred Dick Van Dyke, Janet Leigh, Maureen Stapleton and Bobby Rydell) poked fun at Elvis and early 1960s teen culture, Chu said he wants to make something more relevant to today's generation – as evident by one idea of morphing the Elvis character into a Justin Timberlake-type with an urban/hip-hop twist. He wants to make the movie young, fun and "hip pop.
The original "Birdie" bowed in 1960 on Broadway and offered gentle swipes at Elvis Presley and late-1950s/early-'60s teen culture. The story centers on Conrad Birdie, the country's biggest rock & roll star who gets drafted by the military. In an effort to impress his girlfriend, and make some money, Albert Peterson wants to get Birdie on The Ed Sullivan Show and have him kiss one lucky high school girl good-bye before he enters the service.
Vice president Rachel Shane will oversee the project for Red Wagon with Amy Baer onlooking for Columbia. Red Wagon principals Doug Wick and Lucy Fisher with VP Rachel Shane will produce "Birdie." Col exec VP Amy Baer will oversee the project for the studio. Chu is represented by the William Morris Agency and Marathon Entertainment's Jewerl Ross and Danny Sherman.
Chu has more irons in the fire, including a project with Steven Spielberg in the near future. How's that for magic?
Larry Naiwi Ching, a first generation Chinese; entertainment-savvy; liberal, English speaking and one of the Asian American pioneers that was accepting of their identities as Americans while understanding their heritage as Asians, was a popular self-taught singer at San Francisco's Forbidden City - the Chinatown nightclub that flourished in the 1940s and 1950s.
Mr. Ching died on July 5, 2003 in an Francisco hospital on Saturday after suffering a brain aneurysm at the age of 82 - one week after celebrating the release of his first -- and only -- CD (the Ben Fong-Torres-produced production features classic love songs and standards from his native Hawaii -- as well as a handful of his recordings from the 1940s) and receiving a special proclamation from Mayor Willie Brown, who declared June 28, 2003, "Larry Ching Day."
Mr. Ching was a merchant marine when he landed in San Francisco during the 1930s and became a singing bartender. Being tired of being told what to do on the ships, he decided to work at the all-Asian nightclub, Forbidden City, where he was billed as "The Chinese Frank Sinatra" (though many have compared him to Bing Crosby) He hated the label (though he was like Sinatra in two ways - he was slight in build but devastatingly handsome), but his sweet, smooth tenor voice quickly made him a favorite and he was a featured performer for many years, once appearing on a radio program hosted by Hoagy Carmichael. He also performed at Andy Wong's Chinese Sky Room and occasionally at Club Shanghai because he never signed any exclusive contracts.
Mr. Ching was born on the Hawaiian island of Kauai in Kapa'a and was raised by his grandparents after his mother, an opera singer, went to study in Europe. After graduating from high school, since he couldn't afford college, he found himself a job aboard a ship of the President Lines, working as a fireman and oiler in the engine Room, joined the seamen's union and eventually joined the merchant marine. His travels took him to Japan, Hong Kong and Singapore as well as along the west coast of the United States.
In 1938 Mr. Ching took a $40-a-week job as a bartender at Chinese Village, a local watering hole and owned by Charlie Low (future owner of the "Forbidden City Nightclub), Dr. Margaret Chung, and Dr. Collin Dong. "I became the first singing bartender in Chinatown," he noted proudly years later. Note: Larry taught himself how to sing by listening to records at a very young age.
In 1940, Charlie Low, who had opened Forbidden City, hired Mr. Ching to appear in the club's floor show six days a week as part of an all-Asian ensemble of entertainers. He was part of a Charlie Low's Forbidden City poster that had the heading: "The Greatest Chinese Revue"; and the three performers pictures were Paul Wing, inscribed as "Chinese Fred Astaire," Frances Chun, "Song Stylist," and Larry Ching, the "Singing Favorite."
He became one of the club's most popular performers at a time when there were few opportunities for Asian entertainers after starting as San Francisco Chinatown's first singing bartender. He met many celebrities at Forbidden City such as Bob Hope, Bing Crosby, John Wayne, Duke Ellington and Lena Horne.

Mr. Ching also had to deal with racism. "Several times I lost control of my temper when some drunken customer called me 'Chinaman,"' he recalled. Occasionally he would get in a fight, but most of the time, he said, "I just had to take it."
After the Forbidden City folded in 1961, Mr. Ching found there was no market for Asian performers. Instead, he became a truck driver for local newspapers, including the Call Bulletin, the Examiner and The Chronicle. He retired in 1985.
His career was unexpectedly revived in 1989 with the release of Arthur Dong'"Forbidden City USA," the acclaim documentary about the club and the performers, which featured him singing a couple of songs. This lead to the recording of his debut album, " Til the End of Time."
Mr. Ching married twice. His first wife, Vicki, who died in 1979, was a dancer at Forbidden City. In addition to his widow (Jane Seid Ching), he is survived by two sons, Michael Ching of Lafayette and Philip Ching of Rohnert Park; four stepsons, David Gee of San Francisco, Larry Chu of Larkspur, Lindsay Chu of San Francisco and Lance Chu of Hayward; 11 grandchildren and 2 great grandchildren.
FORBIDDEN CITY
In the late Thirties in San Francisco, a showbiz-loving visionary, Charlie Low, opened the Forbidden City, a nightclub and restaurant near Chinatown, San Francisco, featuring floor shows with singers, dancers, chorus lines, acrobats and magicians. His was not the first or only such club, but he made his the best known, and it became the model for the nightclub in the C.Y. Lee book and Broadway musical, The Flower Drum Song.
Forbidden City closed in the early '60s because its time had passed - television kept people at home in the evenings and the younger generation was already rocking and rolling. The club's combination of Asian performers providing western-style entertainment with touches of vaudeville and titillating burlesque was no longer a novelty (by then Las Vegas was where that kind of entertainment was featured). And unfortunately for the stars of Forbidden City, even though their talent as singers and dancers may have been the equal of anyone else in Hollywood or Broadway, they couldn't break into the mainstream because they were Asian. If they continued their careers, it was as dance teachers or hoofing it on small circuits as a specialty Asian act.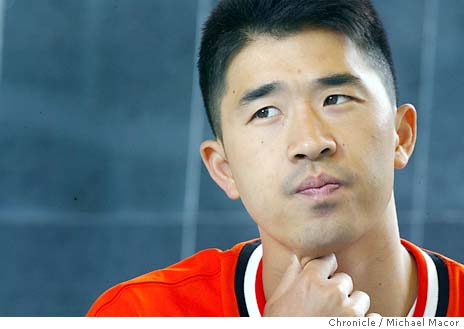 Alex Tse is a young 27 years old scriptwriter raised in San Francisco who hooks up with Spike Lee on his screen-writing debut -- "Sucker Free City" (originally titled "The Game"), a Showtime network pilot executive produced by Sam Kitt and directed by Spike Lee that is packed with more authenticity in a three-word name than most San Francisco-based shows can summon in a 22-episode season.
The title of "Sucker Free City" came from several trailblazing San Francisco rappers such as RBL Posse, Rappin 4-Tay, JT the Bigga Figga and San Quinn who started saying that people from San Francisco are not punks. They started calling San Francisco "sucker-free." "There's no suckers" in San Francisco - we're sucker-free."
"Sucker Free City" -- premiering as a two-hour pilot in the fall -- is about the interactions of a diverse group of San Franciscans after housing prices force a young white resident named Nick to move into a predominantly black neighborhood. In other words, this is a project that had a prestigious film director on board as executive producer in a project that was different, quality and provocative about Black, White and Asian gangs in Sucker Free City.
Alex Tse grew up in the middle-class Richmond District, attended Alamo Elementary School and later took the bus to Presidio Middle School and Lowell High School. After graduating from Emerson College in Boston, Tse chose Los Angeles and ten years to pursue his writing career. After less than three years of producing rap videos and working at low-level temp jobs at Miramax and Disney, he sold "87 Fleer," which centered on four middle-class kids in the Richmond District.
Based on his script, Showtime executives last year asked him to write a pilot about gangs. Tse stated that Showtime "really liked in 'Fleer' were the middle- class kids, from good families and how they became bad. Having the freedom to set the show anywhere he wanted, Tse decided on San Francisco – as he had remembered that the neighborhoods in San Francisco through his sightseeing through the graffiti-etched window of a Muni bus that allowed him to study the gentrification and gans and racial boundaries that were never represented.
Most major television shows/films, after the obligatory trips to the Golden Gate Bridge and the Palace of Fine Arts, ignore San Francisco's diversity, politics and overcrowding issues. Recent television shows and movies based in San Francisco -- "Presidio Med," "Pacific Heights," "The Rock," "Girls Club" -- are named mostly by tourists, mono-ethnic cast, with people who have perched in cable cars and tasted the sourdough, but still think the Tenderloin is something on the menu at Fog City Diner. In Hollywood's most common version of San Francisco, students can afford to live in Victorian flats, parking is plentiful and little exists west of City Hall or south of Potrero Hill.
"Sucker Free City" is by no means the first major production to explore corners of the city unseen by tourists. San Francisco filmmakers such as Philip Kaufman and Wayne Wang have gone out of their way to shoot less familiar angles of the city. Smaller independent films coming out of the southeast portion of San Francisco -- most recently Kevin Epps' documentary "Straight Outta Hunters Point" -- have provided an insider's look at the artistic output of some of the city's roughest neighborhoods.
Jerry Offsay (Showtime's president of programming that brought critically-acclaimed mature themed films like "Bastard Out of Carolina" and "Lolita" that garnered critical raves for mature themes), Gary Levine (executive vice president of programming and Offsay's right-hand man) and Danielle Gelber (vice president of original programming, reading scripts and acquiring scripts) were interested in "Sucker Free City" because of their intent on taking Showtime further in a different direction -- fewer movies, more emphasis on original series. They were looking for genres that could be opportunities for storytelling that would be "getting inside a gang and feeling not only the violence and the danger, but also the love and support that goes with it."
Alex Tse thought that "Sucker Free City" would be a good opportunity to do something real and gritty that was done in San Francisco.
NEW CALIFORNIA MEDIA (NCM)
NCM is a nationwide association of over 600 ethnic media organizations representing the development of a more inclusive journalism. Founded in 1996 by Pacific News Service, NCM promotes ethnic media by strengthening the editorial and economic viability of this increasingly influential segment of America's communications industry.
raise the visibility of Ethnic Media as a major information source for California's 17 million Ethnic American residents and the changing American landscape;

increase Ethnic Media's access to advertising opportunities through a one-order/one-bill placement service;

promote an inter-ethnic editorial exchange.
EXPO 2003: NCM AWARDS
Recognizing journalistic excellence, NCM invites news organizations (print, online, radio and television) serving California's ethnic minority and newcomer communities, as well as individuals whose work is published or aired by these media outlets, to submit entries published between January 1 to December 31, 2002. Entries may be in the language of the publication such as English, Spanish, Chinese, Korean, Vietnamese, Japanese, Arabic, Tagalog, or other relevant languages. Each winner will receive an award of $500 and a certificate. Entries must be postmarked no later than September 1, 2003. Entry fee is $20 per submission. Download NCM's "Entry Form" to enter. Awards will be presented at the NCM Awards ceremony at The Westin St. Francis in San Francisco, 6:00 pm to 10 pm on Tuesday, November 18, 2003.